Hello Kitty party? Yes…I'll do it 🙂 Stacie who owns Polished Day Spa asked if I could put together something special for her niece's birthday party. I loved the theme and especially the pink and turquoise color scheme. Working with characters can be tricky because they are trademarked and you really aren't supposed to print things out from the internet, create printables or even make edible replicas. I decided to honor their trademark and just buy items I could incorporate in my sweets table design. I hope you like the outcome.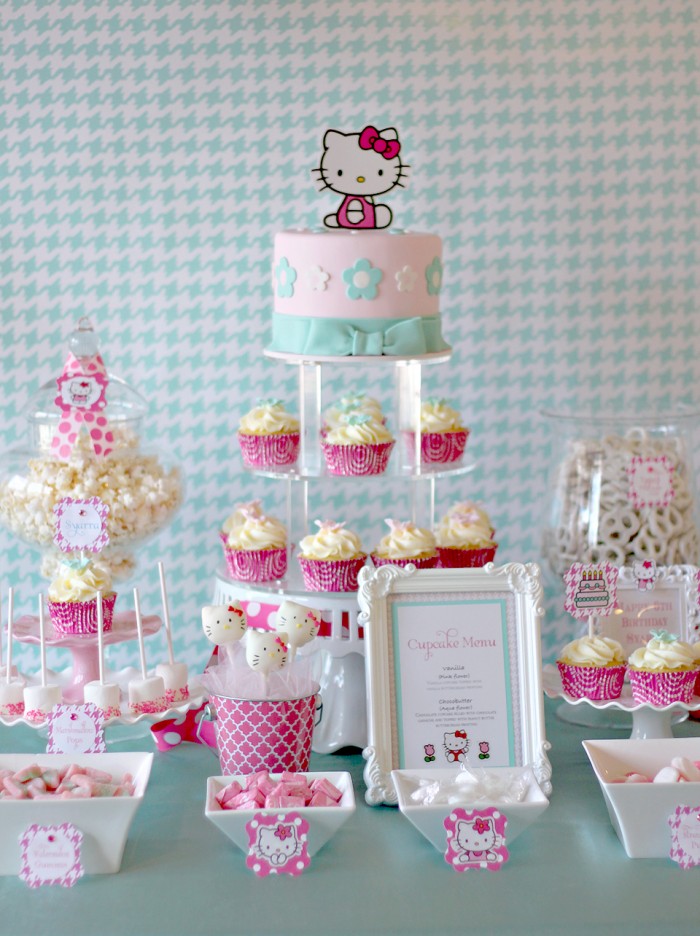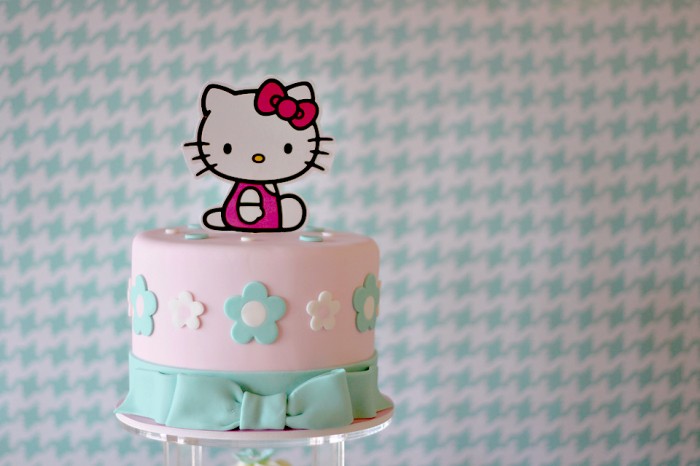 Since there is a massive amount of Hello Kitty merchandise everywhere it was pretty easy to find things to decorate the table with. The best purchase I made was a $9.99 sticker book that I found at Michael's. Instead of making a fondant kitty like I would normally do, I used one of the bigger stickers in the book to make the cake topper. I stayed with the theme and decorated the cake in the party colors.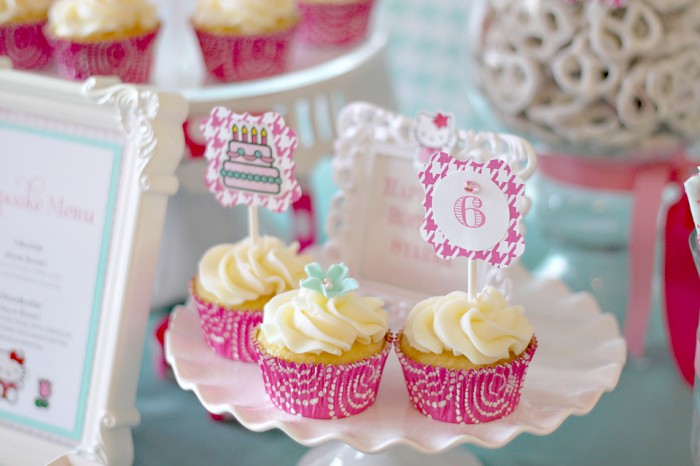 I must say I LOVE the decorative foil cupcake liners that are now available at grocery stores and craft stores. The cupcakes do not show through like traditional liners and they look amazing. I made the cake toppers by using a 1 1/2 circle punch and a 2″ scroll punch. You can just purchase the paper color of your choice and punch and glue them together. Put a sticker on the tag and tape a candy stick on the back and you have an adorable cupcake topper.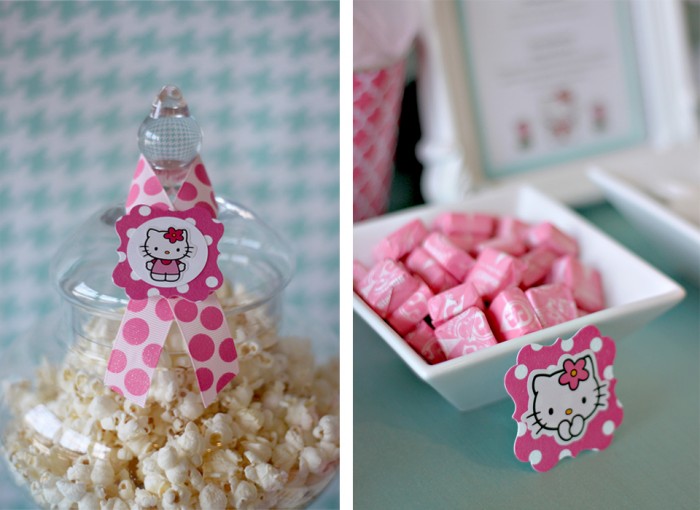 Some of the treats included popcorn and pink Starbursts. I'm sure the candy person at the grocery store is wondering where all the pink ones went from the bulk bin of mixed colored Starbursts. Again…I punched the scalloped shape with a paper puncher and just put a sticker on them.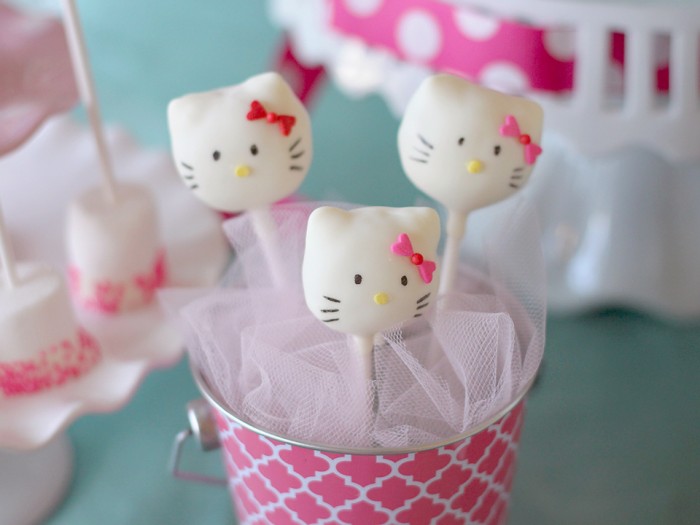 Okay…so I did make cake pops that look similar to Hello Kitty, but my sister who is actually a Marketing Exec. for the parent company said my kitty didn't look exactly like the real one….so I think I'm good.  I actually referred to Bakerella's tutorial on how to make them. She's the queen of cake pops and makes the most adorable creations. The cute little tin is from Target.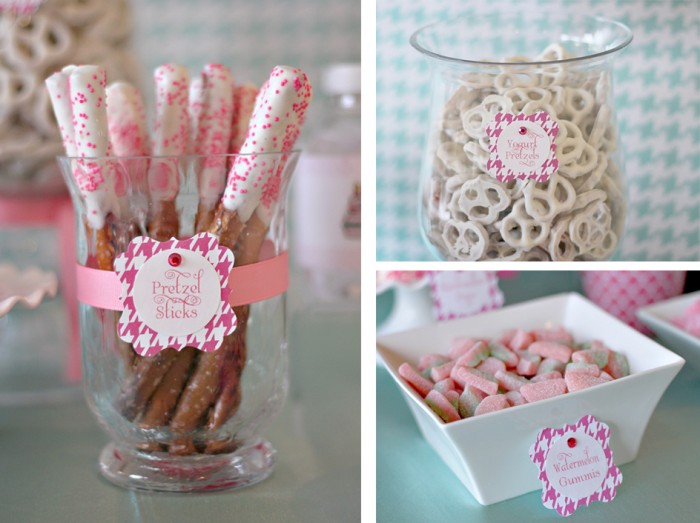 Some of the other goodies included white chocolate dipped pretzels, watermelon gummis and yogurt covered pretzels.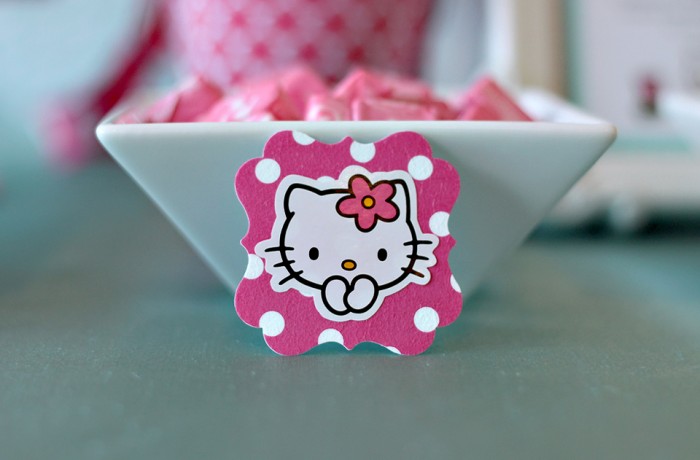 So cute! It's amazing to think that she was just as popular when I was a kid and that was a very long time ago.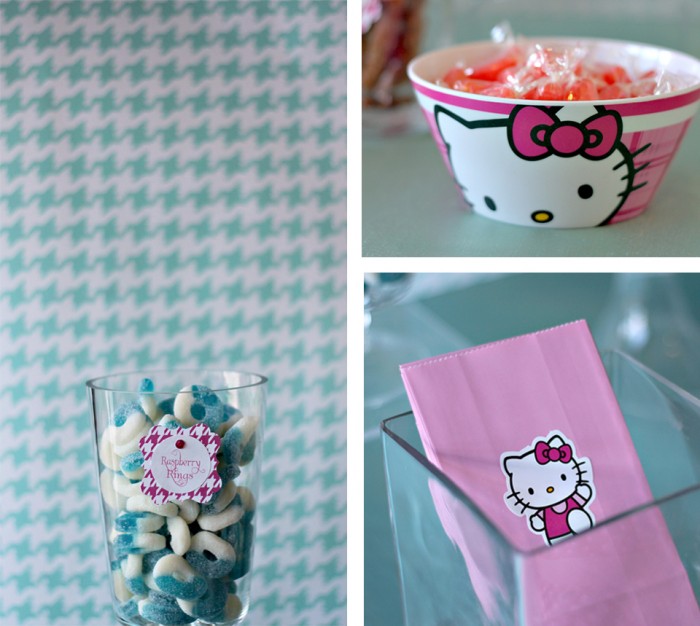 I found the adorable bowl at Target and purchased pink bags and put stickers on them.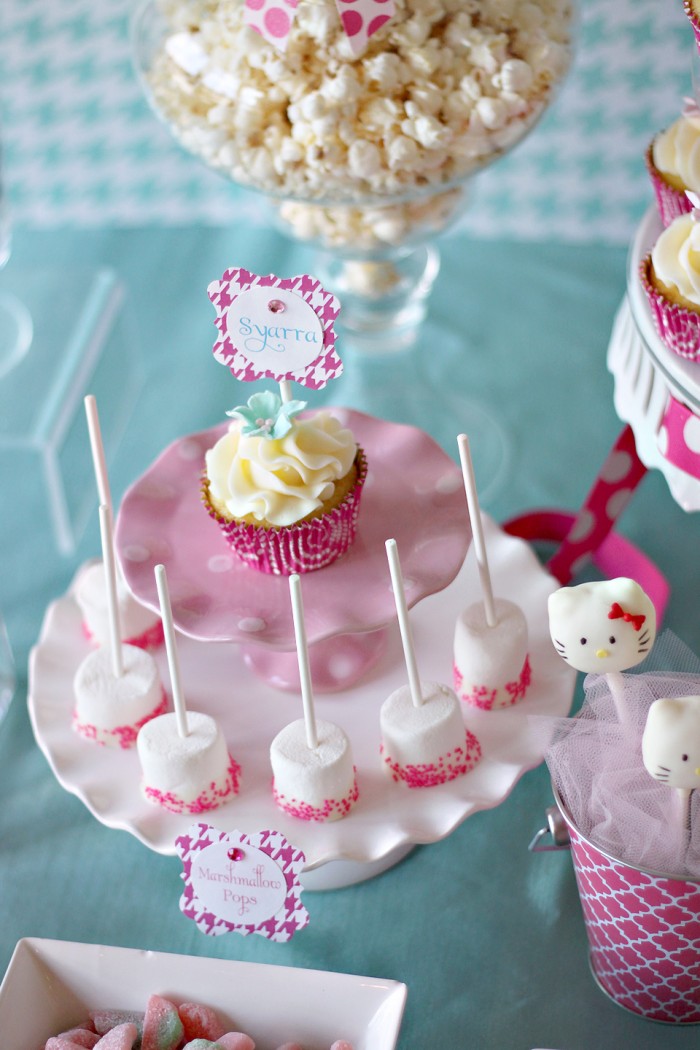 Marshmallow pops….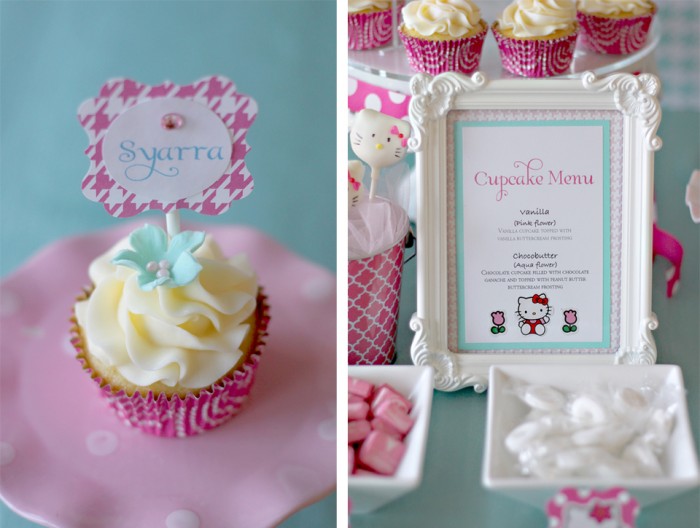 The cupcake flavors included Chocolutter and Vanilla Vanilla. Each cupcake was decorated with a pink or turquoise sugar flower.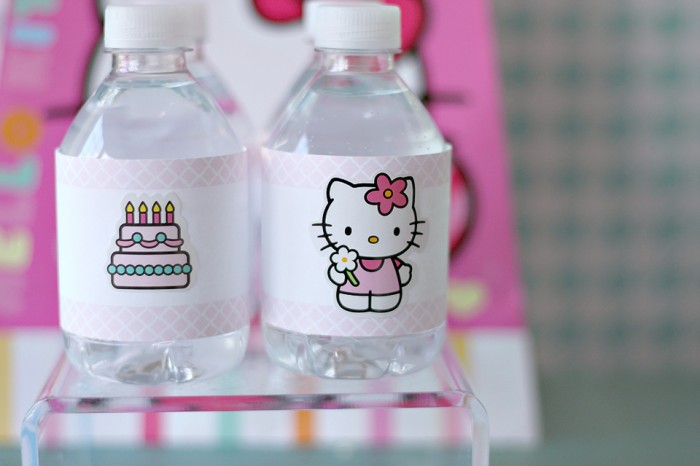 I wrapped each mini water bottle with paper I printed with a pink pattern and put a sticker on them. Super easy.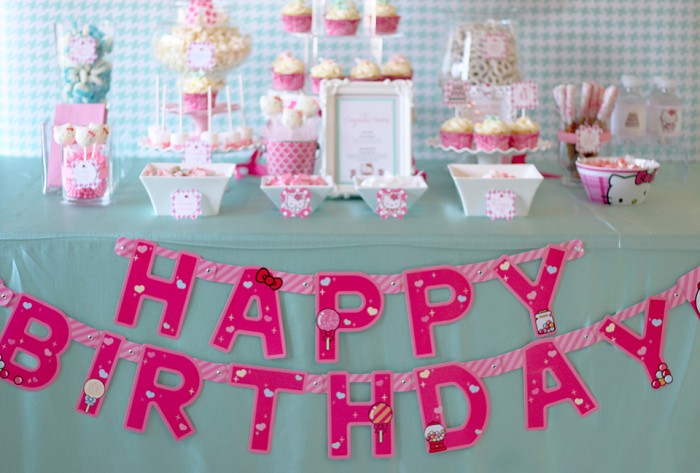 The Hello Kitty banner was another purchase from Target.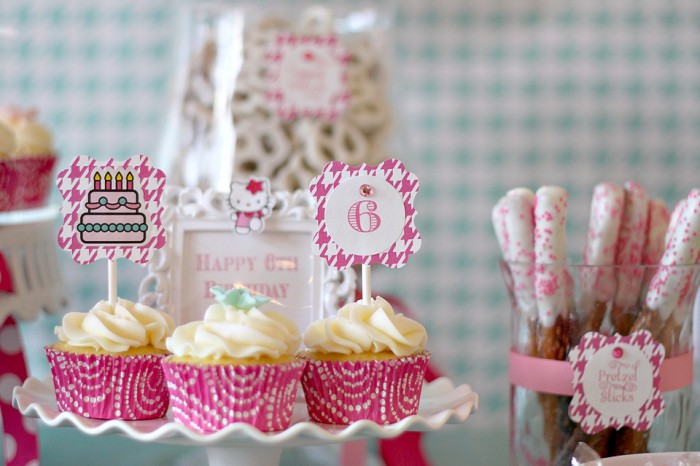 It was actually pretty easy to create the party using Hello Kitty items I purchased and I really did not buy very much. The stickers, bowls and banner were the only actual theme items I bought. So, the next time you have a theme party, grab a couple paper punches, colorful paper and stickers and you are ready to go!
Happy birthday Syarra 🙂
Vendors: | Cake, cupcakes, desserts and styling: The Couture Cakery | Linen: Essential Party Rentals | Hello Kitty bowl and banner: Target | Sticker book: Michael's | Cake Pop Tutorial: Bakerella |