I'm excited to finally share this unique and beautiful warehouse bridal shower I was a part of on my blog. Kristy Rice with Momental Designs is a brilliant, award winning wedding stationer who invited me to provide cakes and sweets for a bridal shower she was hosting. I was thrilled with the opportunity to collaborate with such a talented artist. Her custom watercolor wedding stationery designs are beyond spectacular. The shower took place at Maggpie Vintage Rentals warehouse and Maggie, the owner, styled the amazing decor for the shower with her collection of vintage pieces.
The photos below were shot by Jillian and Ryan from With Love and Embers. Their photography style is so creative and artistic. It was very difficult picking just a handful of photos for this blog post.
It all started with the Kristy's custom watercolor stationery designs. Bursts of vibrant color against the natural wood tables and touches of lace created such a beautiful look.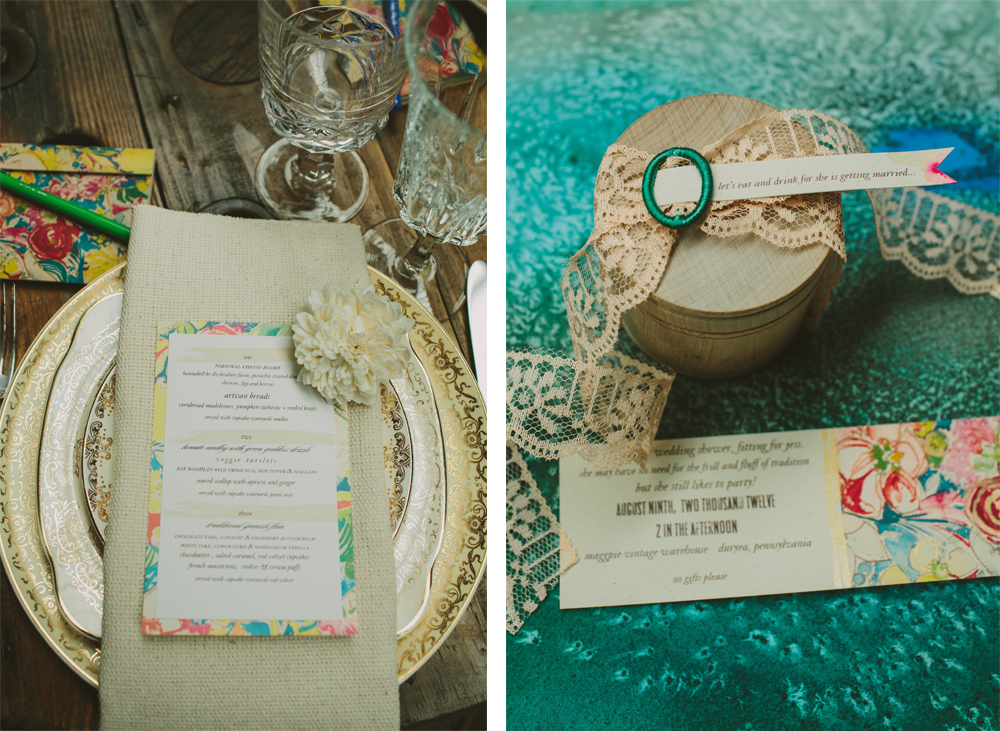 When I thought about the concept for the cake design I wanted to incorporate lots of texture. Sage, browns and touches of metallic helped to create the organic feel I was going for.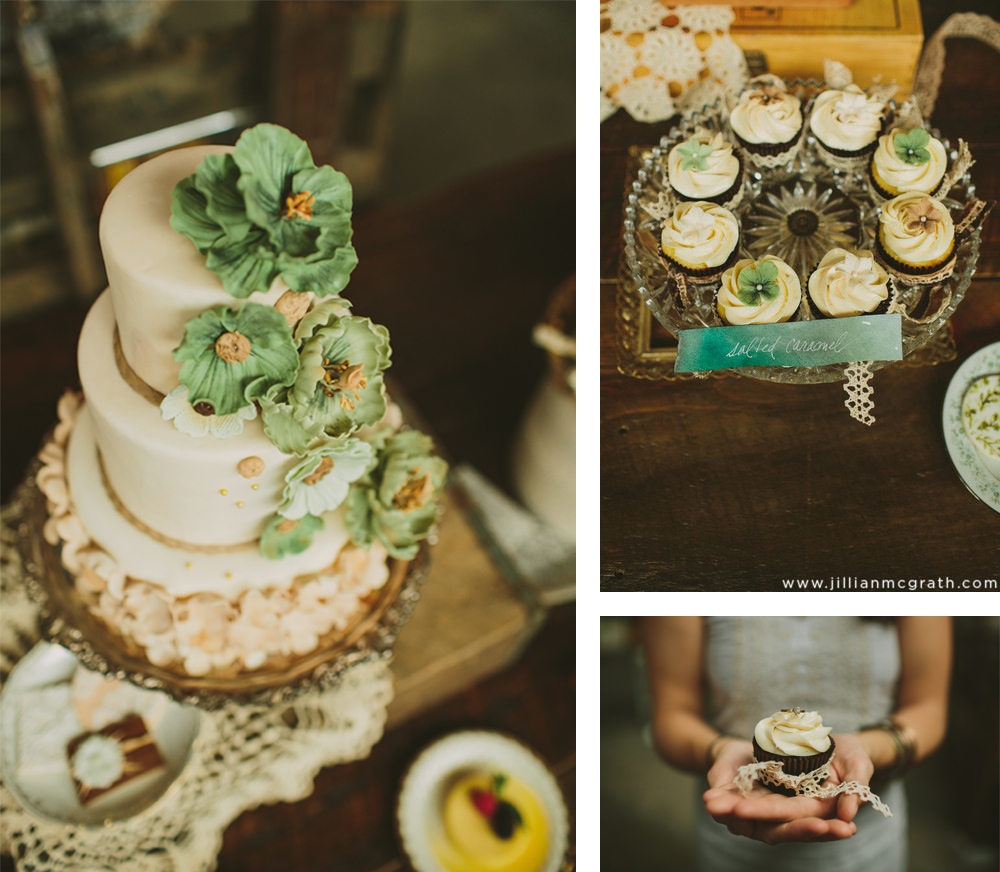 The sweets table was placed in front of a forklift. So awesome and I had so much fun designing it.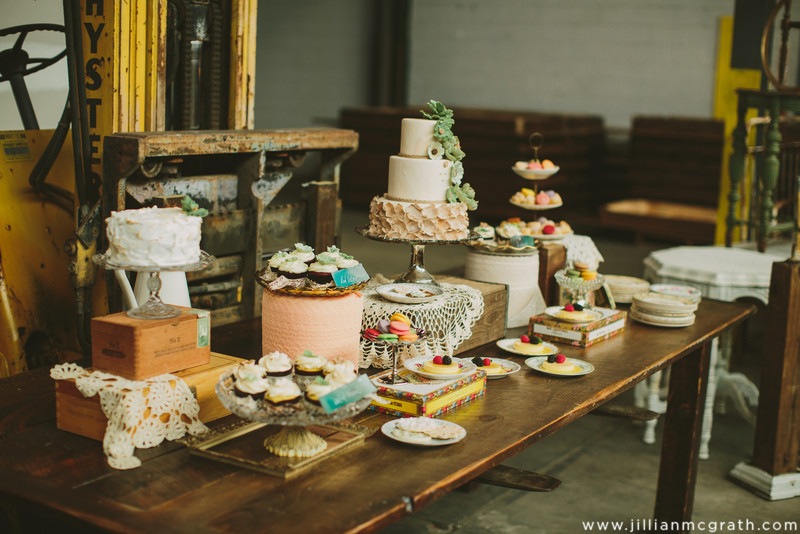 One of the sweets included yummy and beautiful French macarons created by Vy from Rice & Noodles.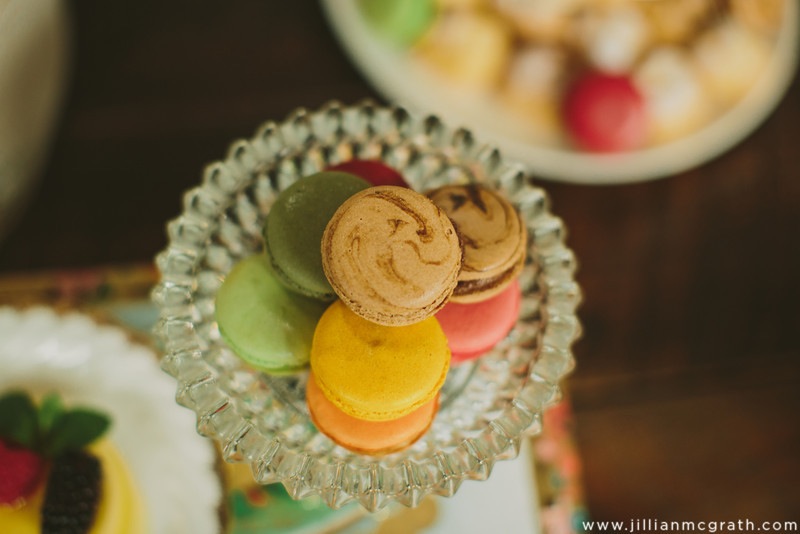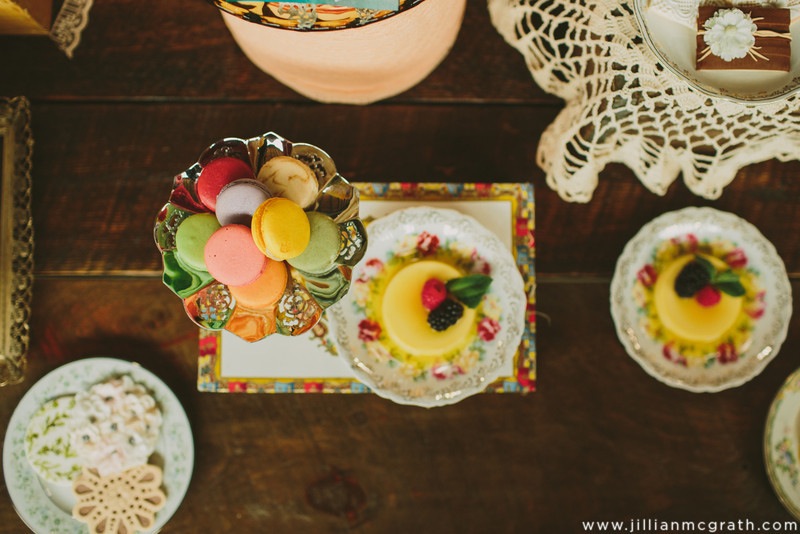 Cupcakes included Chocobutter and Red Velvet. I love the sign Kristy made for the cupcake description.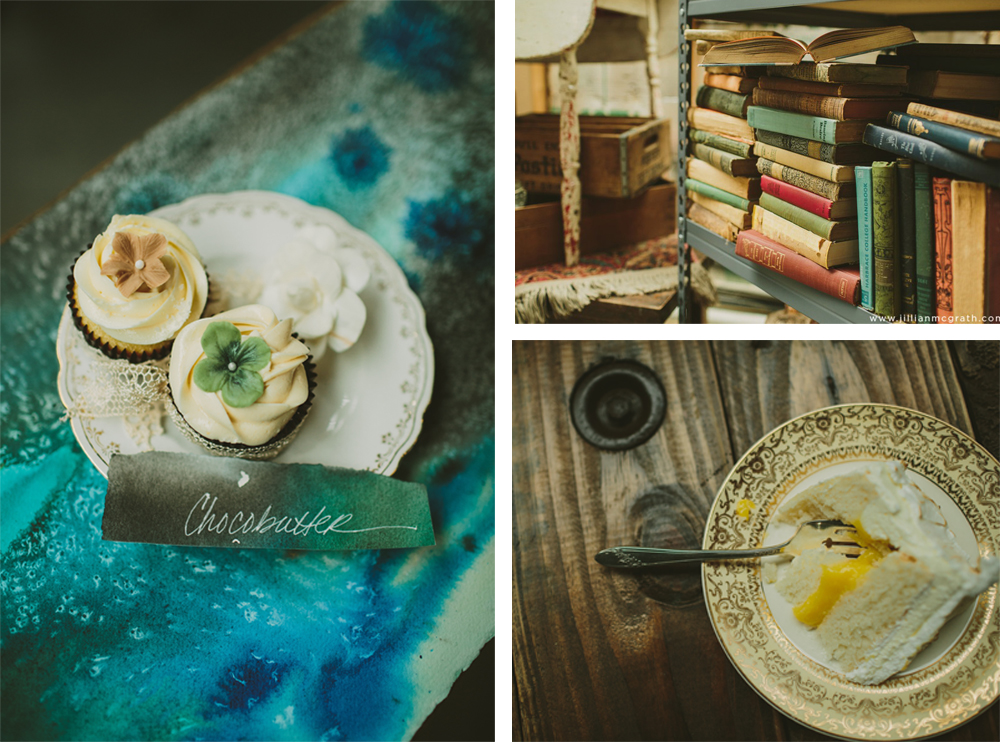 I created a small cake which I covered with meringue and torched a bit to tie in the grunge look. It was a white cake with lemon curd filling.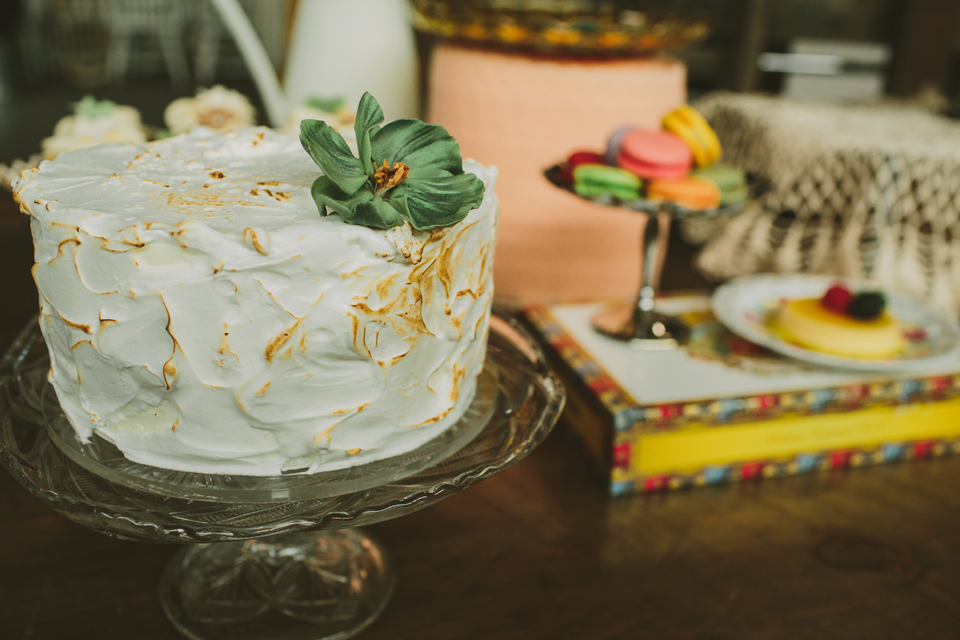 Jason with Maggpie Vintage made all the tables. The centerpiece for the table design was the food which was styled on a beautiful watercolor runner Kristy created. The runner was in murky shades of teal, blue and black. While the paper was heavy and wet with inks she sprinkled salt on the surface. When all was dry, light sunbursts appeared where the salt soaked up the ink…just stunning.
Jess, who the shower was for, looked adorable posing with the antlers 🙂 Her favorite dessert is flan, so I made individual servings garnished with fresh fruit. Kyrsten, who assists me during wedding season made the too pretty to eat cookies.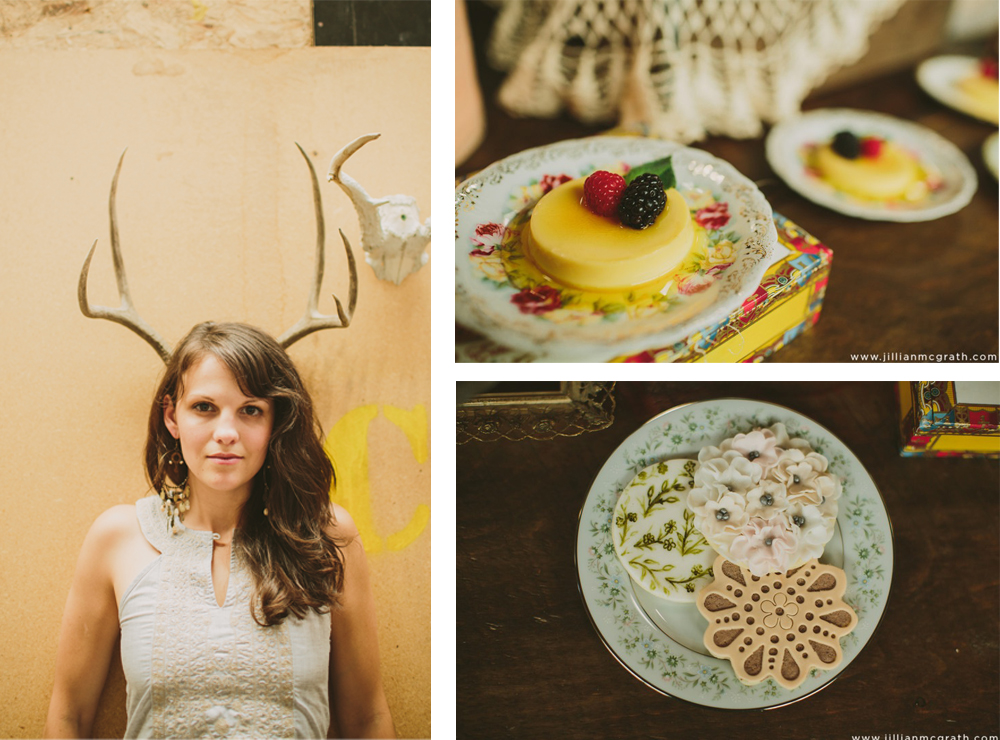 The food was prepared by Pat with Grico's Restaurant. Not only did it taste spectacular but the presentation was amazing.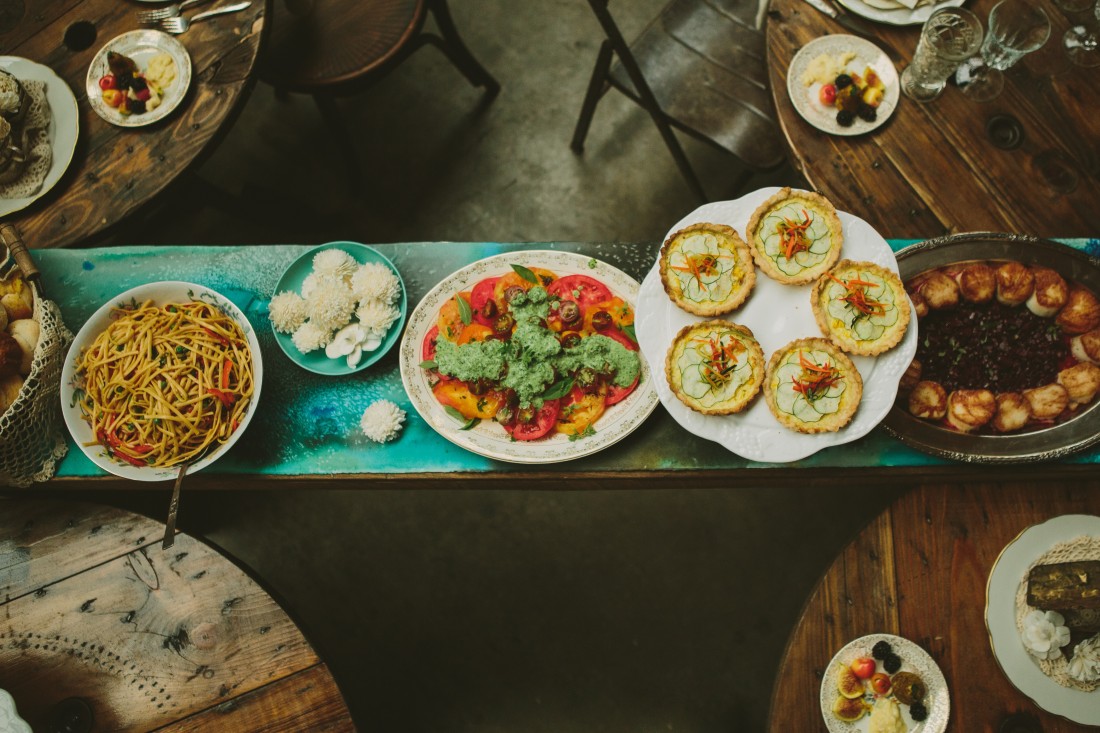 Here is Kristy serving the yummy Asian pasta.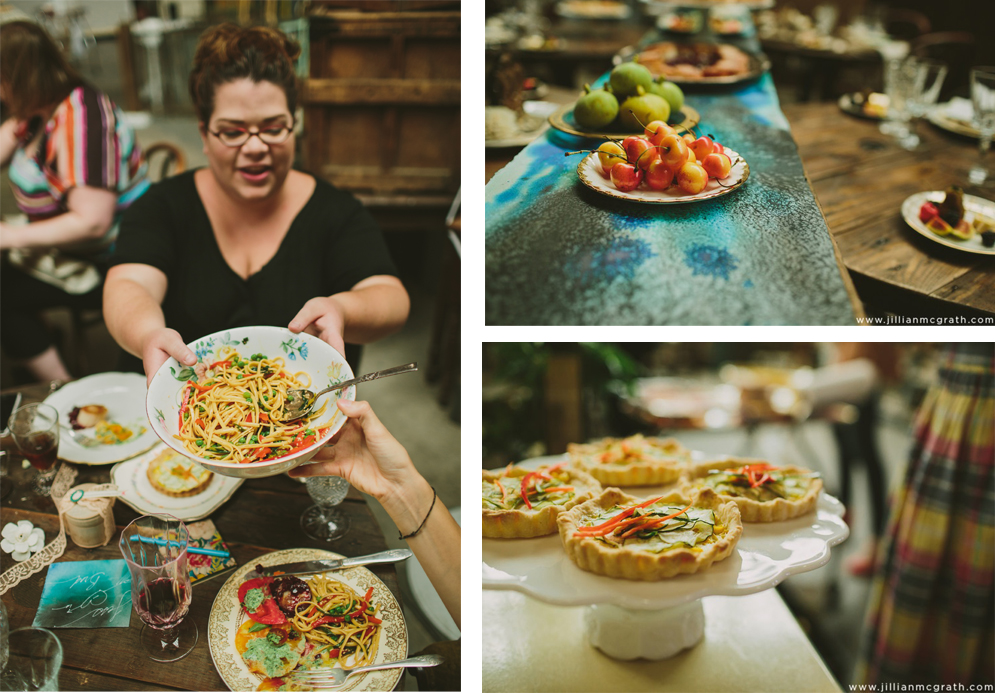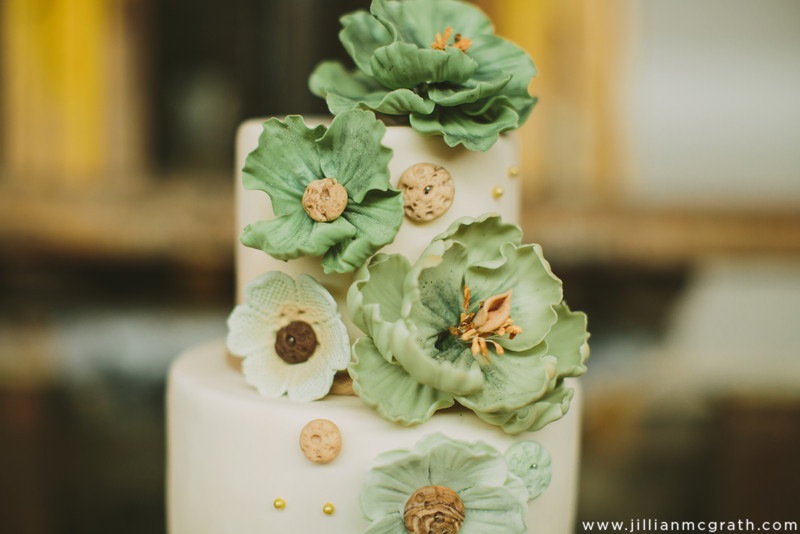 Thank you Kristy for the wonderful opportunity to work with you and to Jillian and Ryan from With Love and Embers for the amazing images posted on this blog.
Click here to see more amazing images from With Love and Embers blog.
Featured on Green Wedding Shoes: Warehouse Bridal Shower  |  Photography: With Love and Embers (Jillian and Ryan McGrath) | Styling, Venue, Details + Tables: Maggpie Vintage  |  Event Concept, Paper Styling + Paper Goods: Momental Designs |  Coordination: Danielle Pasternak (Events) |  Catering: Grico's Restaurant |  Cake, cupcakes, sweets and dessert table styling: The Couture Cakery  |  French Macarons: Rice & Noodles |  Designer Cookies: Kyrsten Willets